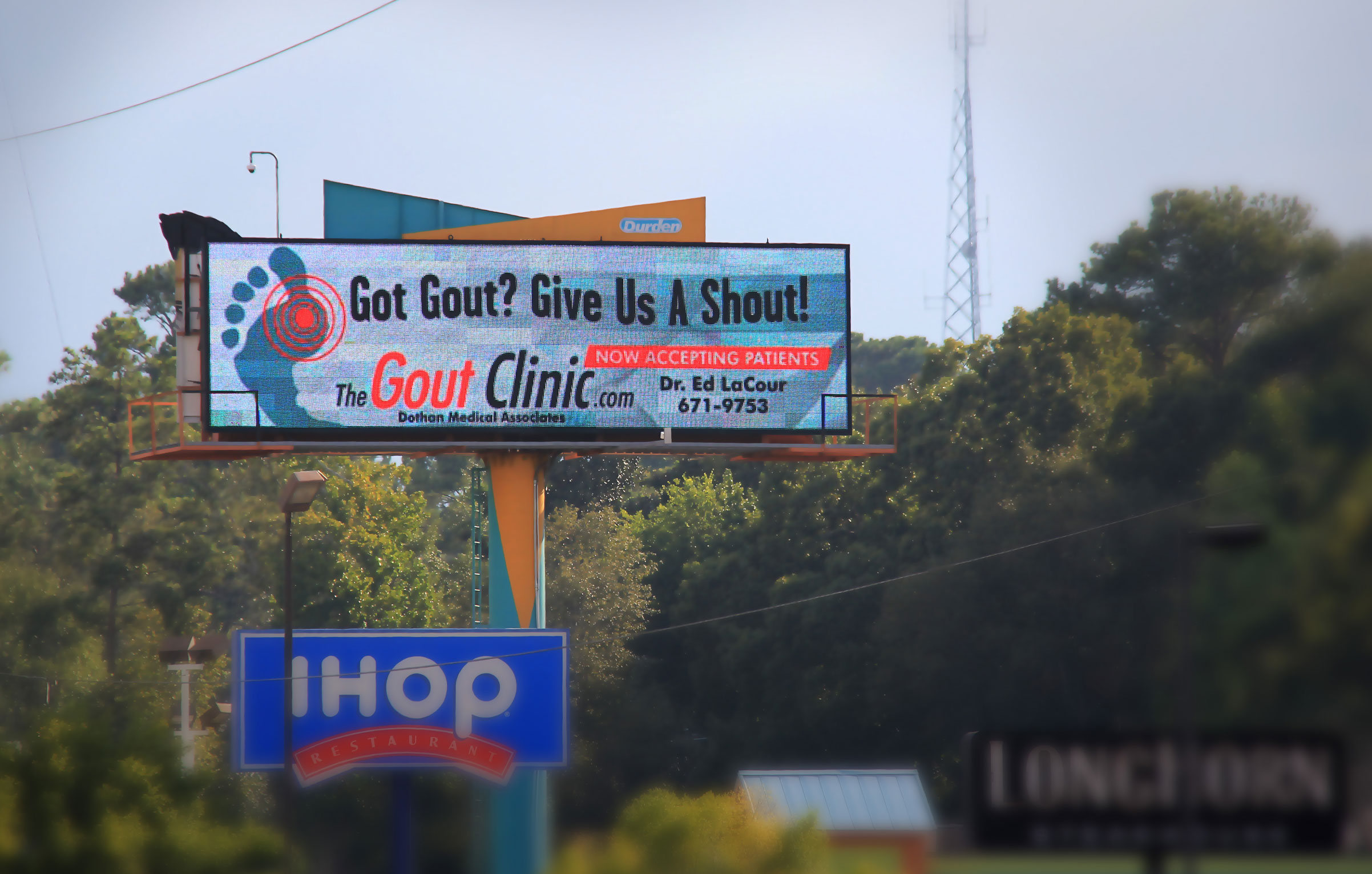 There is a new business in town! Dothan Medical Associates introduced their new business, The Gout Clinic, to the Wiregrass area. Gout is a serious disease that causes pain, swelling, and can potentially have dangerous consequences if left untreated. Thankfully, Dothan now has a clinic set up for treatment and care of those with this ailment.
To brand their new practice, The Gout Clinic asked for advertising assistance from the Famous Makers here at Durden Outdoor Displays, Inc. Our creative team worked from the ground up, building their overall look, including a new logo for the business.
Right out of the gate, The Gout Clinic was receiving calls and setting up appointments, drawn in by their outdoor campaign on the Durden Digital Network. They utilize (3) Digital Billboards that rotate every (4) weeks through out the Dothan market. This allows The Gout Clinic to saturate the market and target different areas of the city each month. When asked how their campaign was going for them they said it was "really bringing in the phone calls!" If you are in need of treatment for Gout, set up an appointment at TheGoutClinic.com.
If you would like to promote your specials through out the Durden Digital Network and reach over a million cars daily, please contact one of our FAMOUS Makers today at (334) 792-5056 or sales@durdenoutdoor.com.
http://www.durdenoutdoor.com/wp-content/uploads/2016/06/DUR-Footer-Logo.png
0
0
dur_admin
http://www.durdenoutdoor.com/wp-content/uploads/2016/06/DUR-Footer-Logo.png
dur_admin
2017-09-21 22:24:50
2017-09-21 22:24:50
The Gout Clinic Gets Instant Attention With Outdoor Advertising