Have you ever opened your web browser only to be bombarded with an instant barrage of ads? Pop-ups, videos, and surveys all fighting for your attention trying to drive traffic to their website. Chances are it's a daily occurrence and chances are even better that only a small percentage of these ads are memorable to us as an audience. Forbes digital marketing experts estimate the average American sees or hears 4,000-10,000 ads per day.
As a brand, how does one most effectively navigate these over saturated waters to connect with potential consumers? You flip the script and get outside. Out Of Home (OOH) advertising is currently one of the fastest growing mediums on the market and ironically enough, even the largest tech companies like Apple and Google are taking note.
According to a recent Nielsen study, billboards boast some pretty admirable stats: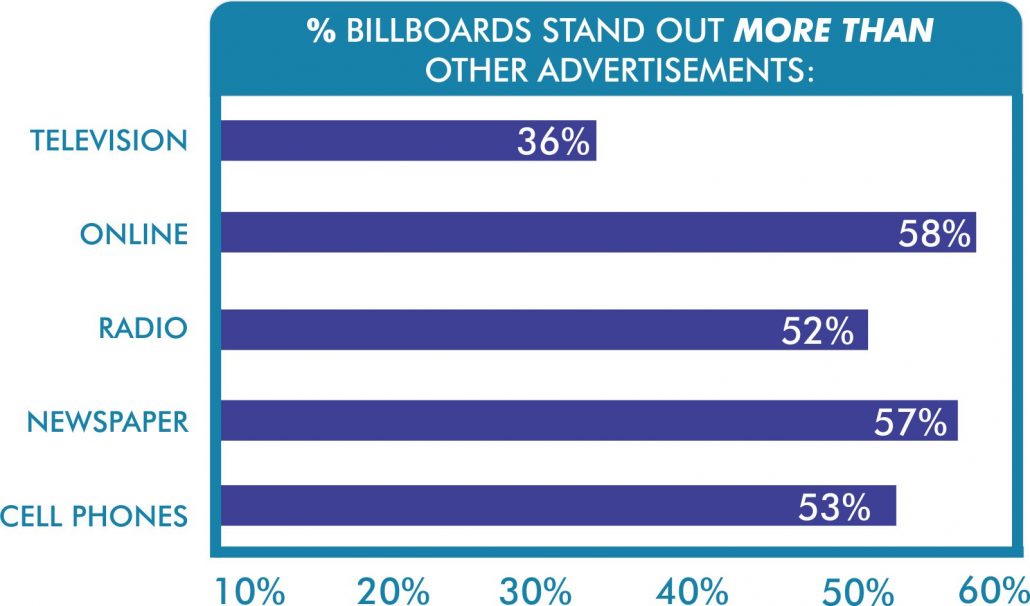 Thanks in part to the onslaught of digital noise, OOH has once again proven itself as the best bang-for-your-buck marketing tool. At a fraction of the cost of traditional media, the OOH return on investment is quite impressive. According to a Hustle article- "Radio, print, and television ads have declined in prominence, but OOH ads have enjoyed 31 consecutive quarters of growth, and a 35% increase in ad spend since 2010. By 2021, billboards are expected to grow to a $33B industry."
They say what is old is new again and the "old-school" billboard is most certainly still a powerhouse on the advertising front. Since 1968 Durden Outdoor has been making clients FAMOUS and we are happy to see current trends reflect what OOH advertisers like us have known all along. If you are interested in increasing your brand's bottom line contact one of our sales associates today!

https://www.durdenoutdoor.com/wp-content/uploads/2016/06/DUR-Footer-Logo.png
0
0
Martin Whaley
https://www.durdenoutdoor.com/wp-content/uploads/2016/06/DUR-Footer-Logo.png
Martin Whaley
2019-02-06 19:45:41
2019-02-06 19:45:41
No Ad Skipping Here