"CAN'T TOUCH THIS" BILLBOARD FOR DOTHAN KIA
June 23, 2014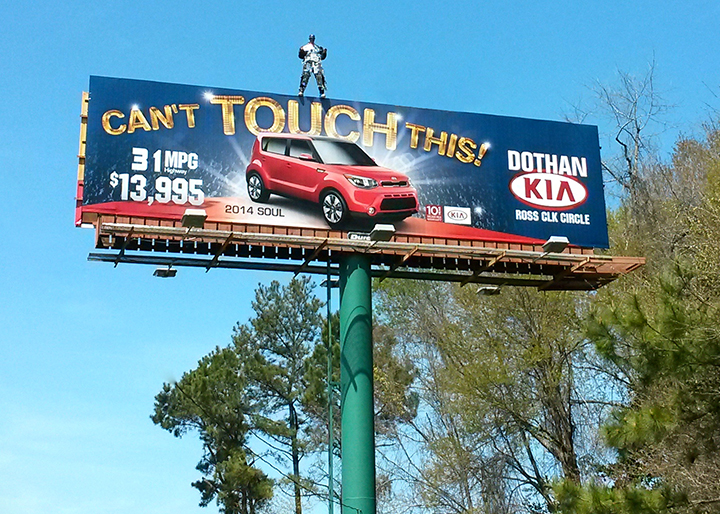 You can't touch this…. My-my-my-my Durden has done it again.
Tasked with designing a billboard to turn heads, Durden looked towards the original rapping hamsters in the Kia commercials for inspiration and were led to another rapper of the human kind. We all remember the 1990's hit single "U Can't Touch This," written, performed, and produced by MC Hammer, himself. This signature song of Hammer's is possibly one of the most recognizable records ever… which happens to be the same thing Durden wants for Dothan Kia.
The 2014 Kia Soul gets 31 mpg on the Highway and costs $13,995. What better way to advertise that then putting MC Hammer on top of a 14' x 48' billboard. Well it's not actually MC Hammer. It is a mannequin made to look like him, dressed in a gold & black jumpsuit.
Our Creative Department and Expediting Department worked together with Dothan Kia to create this beautiful 3D Billboard work of art. If you would like #TeamDurden to design your next out-of-home advertisement, please contact our sales department to get started.
Nah-na-na-na, Stop, Hammer Time!