Durden Honors Military With 250 Free TOADLICK Tickets
May 25, 2015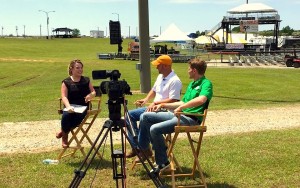 The "FAMOUS MAKERS" wanted to do something special for our 3rd annual sponsorship of the largely popular Toadlick Music Festival held in Dothan, Alabama.  On opening day of the festival April 23, 2015, Durden Outdoor announced on WTVY of the Toadlick sponsorship to purchase tickets for 250 lucky veterans.
"The three large military bases in our region have had such a tremendous economic and social impact on our lives locally and abroad" says Durden Outdoor's VP Bill Durden.  "Our team was thrilled at this opportunity to give back to those who have given so much to this country."
This third year festival is now touted as one of the largest events in our region with an economic impact of over $2 million dollars to the community of Dothan, AL.  Toadlick 2015 featured such acts as Hank Williams Jr (w/ special guest Kid Rock), Brett Michaels, Lee Brice, The band Alabama, STIX and many more.  For more info vist www.toadlick.com
Durden Outdoor also printed and designed all of the stage banners and signage for the festival.