Slocomb Tomato Festival THIS WEEKEND
June 16, 2016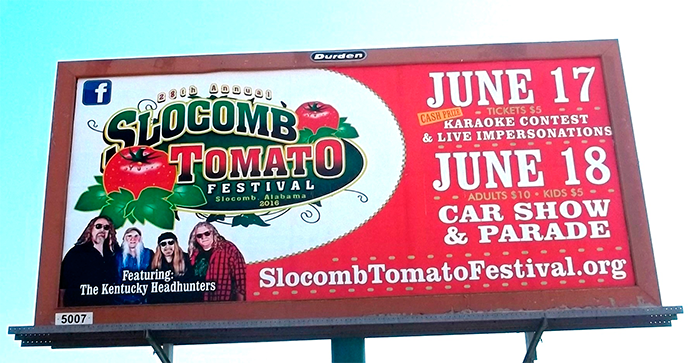 Sporting events and festivals have led to a spike in travel and spending in the Wiregrass area. According to the Alabama Tourism Department's Economic Impact 2015, travelers spent an estimated $263.7 million in Houston County, $55.3 million in Coffee County, $39.3 million in Dale County, $3.2 million in Geneva County and $3 million in Henry County. The numbers through out the state show more than 25 million people traveled in Alabama last year alone. With the increase in the number of vehicles on the road, comes an increase in the number of views on billboards.
One of our local homegrown events, the Slocomb Tomato Festival, utilizes a mix of digital and rotary billboards to announce their event annually. A clean and consistent message is key. Their billboards can be seen on Hwy 231 South and Hwy 52 West in Dothan targeting locals and beach traffic. They also expanded into the Enterprise market to attract even more Coffee County residents to the festival this year. If you are in the Wiregrass this weekend, be sure to stop by the Slocomb Tomato Festival on Friday and Saturday to check out the karaoke contest, car show, The Kentucky Headhunters, and of course sample one of those juicy Slocomb tomatoes.
The team at Durden Outdoor can help you reach over one million cars daily. Contact our sales team today about making your business or event FAMOUS in the Wiregrass.