Digestive Health: If 2020 Were a Drink
August 6, 2020
This year has been unlike any other. Most would agree that it has not had a great taste to it. Here' hoping that taste doesn't linger.
Digestive Health Services (DHS) was looking for a new summer campaign. Something that would speak to our general disdain for 2020. Never ones to shy away from humor, DHS decided to turn this lemon of a year into 
lemon aid
, err Colon Prep.
The idea was first presented by DHS and our creative team took it and created two ads with a cohesive theme. That theme being alcohol advertisements. If we're going to speak about 2020 as a cocktail (or mocktail), why not mix it up and pay homage to the classics in look and feel.
These two ads have been running in both the Durden Digital Network and Poster Rotary System. So, go on, drink 'em in. Got another suggestion for 2020's drink of the year? Let us know in the comments.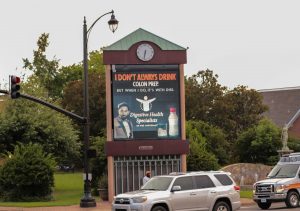 If you are interested in becoming FAMOUS in the Wiregrass area contact us today at 334-792-5056 or sales@durdenoutdoor.com.