The Ultimate Famous Maker Passes
February 6, 2021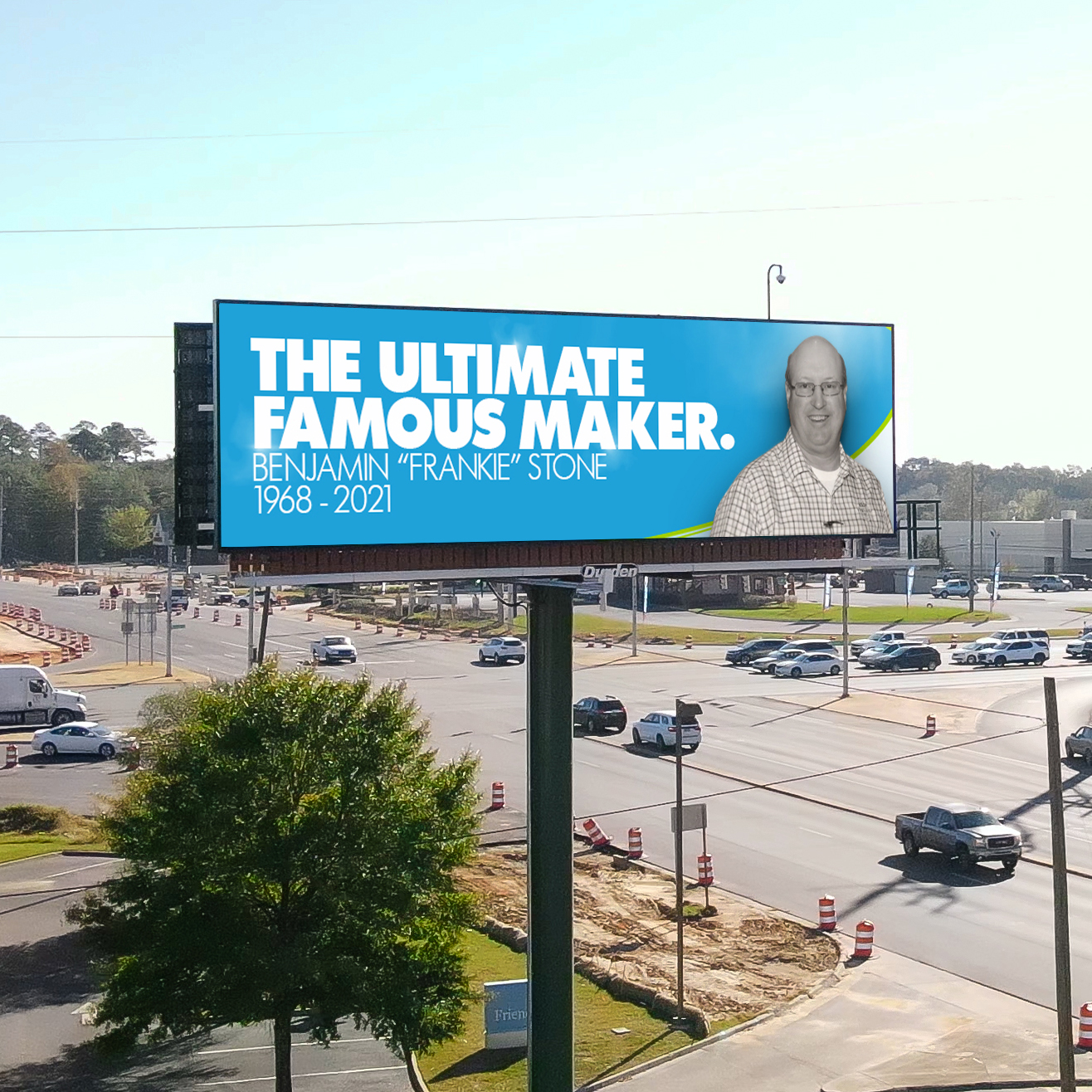 The Out-of-Home industry grieves the loss of one of their own. Frankie Stone, Sales Director of Durden Outdoor Displays, Inc., died Thursday, February 4, 2021 due to complications from COVID-19.
Frankie began his career as a FAMOUSMaker in 1988 at the ripe young age of 19. He started out on the panel crew at minimum wage before working himself up the ranks over the years to Production Manager. One day, he approached President, Earl Durden, and expressed his interest in sales. While that didn't quite work out at first, Mr. Durden allowed him to hustle sales on his off days. After proving himself, he finally moved into the sales department, later becoming Sales Director in the early 2000's managing over 1000 billboard faces.
Frankie was one of the most dedicated and loyal individuals that you will ever meet. He enjoyed visiting with people, learning more about their business and helping them become FAMOUS throughout Durden's 10 county coverage area in southeast Alabama and northwest Florida. He simply loved people.
"He was born with a gift of class and a fighting spirit exemplified every day of his 33 year career with our company," says Earl Durden, president and founder of Durden Outdoor.
Frankie was a foster child growing up but would later learn to foster others. He was a mentor to many people who had the privilege of working with him. He always made time for employees and would drop what he was doing to listen and offer advice. He treated his customers the same way. He never was truly "off the clock." There were many times when he sat in a treestand on Saturday mornings waiting for the perfect buck to come out all while responding to emails, putting proposals together and handling last minute requests that were time sensitive. Frankie was passionate about his work and always put others before himself.
"Posting glue ran thru his veins, pumped from a heart full of grace and sincerity" says Bill Durden, Vice President of Durden Outdoor.  "The chemistry Frankie Stone brought to our work family was irreplaceable and he will be sorely missed by many."
Frankie Stone was a frequent attendee of many IBO conferences since 2017.  He leaves behind his wife, Jill, and daughter Hannah who also works as a graphic artist / digital scheduler at Durden Outdoor.
Read the full obituary HERE.