Only 13 Fridays Until Christmas!
September 27, 2021
Planning your marketing in advance is crucial this holiday season. In light of the COVID-19 pandemic in 2020, the holiday season looked very different from years past. Brands and retailers started to push holiday deals earlier than ever to discourage large crowds from coming to stores and mitigate supply chain concerns. Shoppers followed suit and over 40% of consumers started shopping for holiday gifts earlier than ever before. This year is predicted to follow the same shopping pattern meaning now is the time to purchase your Outdoor Advertising Packages.
The Durden Rotary Poster Program and Digital Network are perfect for targeting shoppers. Posters are extremely powerful for launching new product campaigns, time-sensitive promotions, seasonal and special events. Posters are located on major roads and secondary arteries throughout southeast Alabama. In addition, the Digital Network is also a great way to target your audience as it is the largest digital billboard network in Southeast Alabama. With locations reaching over 1.3 million cars daily in Dothan, Ozark, Troy, Enterprise, Eufaula and now Marianna, FL., it is sure to reach your target demographic.
If you are looking to target specific areas with premium locations, we suggest locking in your campaign early. Now is the time to book your 4th quarter billboards and finish out the year strong. Incorporating a mix of Digital and Rotary Posters in your advertising plan is a great way to have flexibility to promote your holiday specials. Durden is currently offering several packages to help you plan and strategically focus your advertising this holiday season.
[/vc_column_text]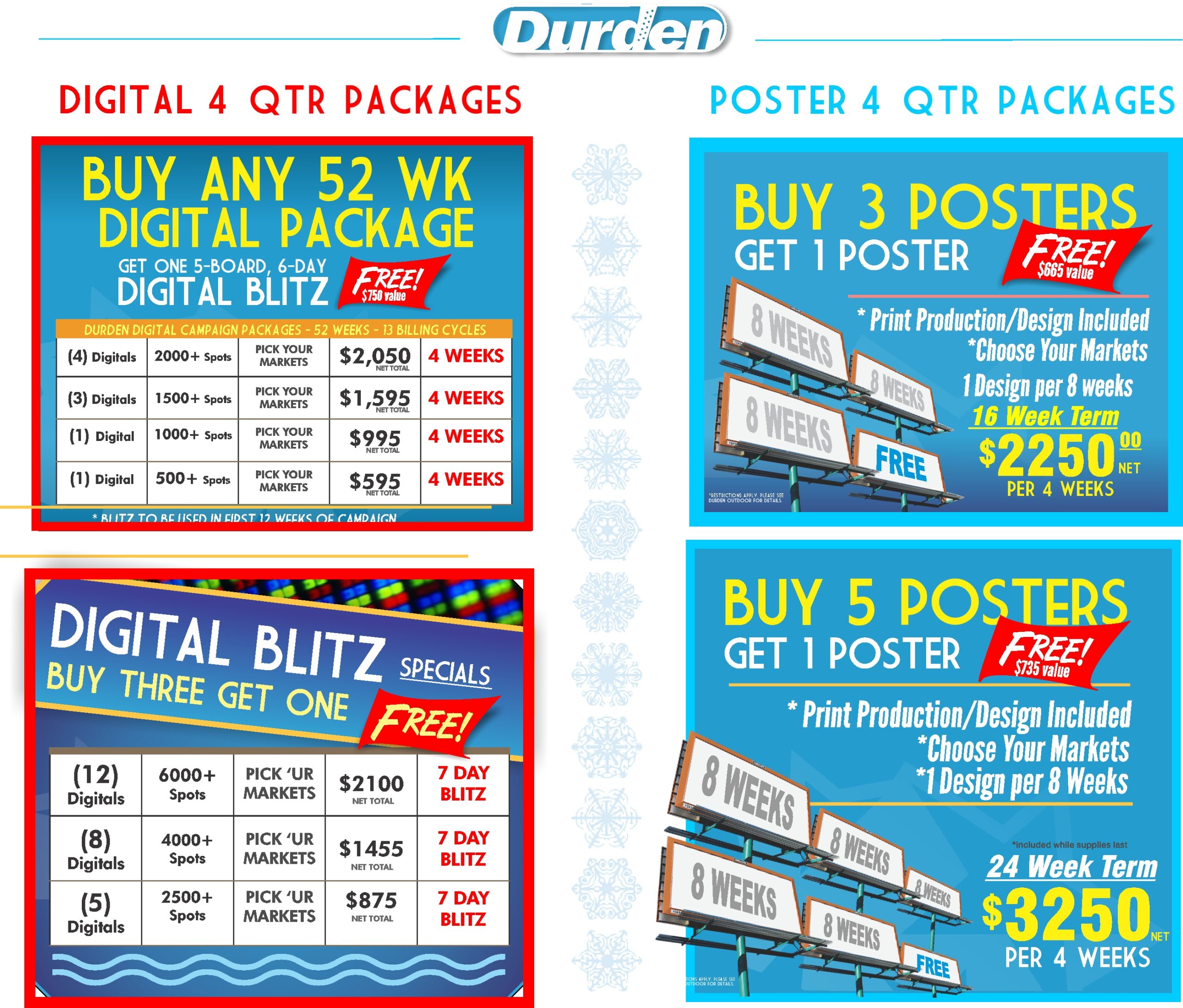 [/vc_column][/vc_row] All of the above packages include artwork designed by our award-winning Creative Team. Christmas will be here before you know it and now is the time to plan and execute to increase your revenue and push past the finish line this holiday season. If you are interested in learning more about our packages or would like us to customize a plan to fit your budget, contact us today!