Integrating DOOH Messaging with Social Media
October 15, 2021
There is no doubt that Social Media and Digital Out-Of-Home (DOOH) is an ideal pairing to create an interactive and engaging multi-channel campaign. Campaigns that use both social and OOH can expect to see an increase in mobile campaign's reach by 316%.
DOOH and social media have many similarities, including their dynamic real-time content and their nearly endless creative possibilities. Together, they have the tools to merge online and offline conversations as well as take your campaign viral.
Platforms & Messaging
Some things are just meant to be – peanut butter and jelly, milk and cereal and, in our humble opinion, Social Media and Digital Out-of-Home advertising. Beyond the sheer reach of Social Media channels like Facebook or Instagram, Social Media also offers a range of options that goes well with DOOH.
DOOH can serve as a catalyst for overall campaign performance by replicating or echoing what has been pushed out online in real life; you can target that same demographic with large-scale billboards. It can also help keep campaigns relevant, engaging and contextual. It is highly beneficial to change messaging at a moment's notice based on current events.
[/vc_column_text][/vc_column][/vc_row]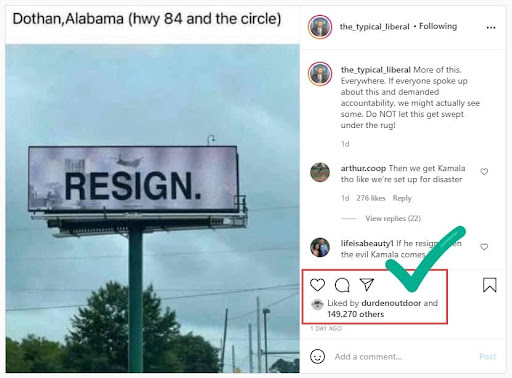 RESIGN.
In recent weeks, a suicide bomber killed thirteen American soldiers in Kabul. The original creative that was running at the time of the attack were three ads using Afghanistan as the backdrop and questioning the leadership of the President. Within three hours of the attack, this was changed across all states replacing the creative with the client's desired new "RESIGN" creative.

According to billboard insider, an Instagram influencer "posted a photo of Durden Outdoor's digital billboard on Hwy 84 at Ross Clark Circle with his comments. Presently, 150,000 people have liked the billboard. For every like, there is a ratio of 4 to 1 more views on Instagram – so the client estimates over 600,000 people have seen Durden's billboard all over America and the globe."

Digital Out-of-Home mixed with Social Media is a force to be reckoned with. Various Social Media platforms have proven how fast messaging can travel while using the platform. This campaign helped bring to light the benefit of DOOH and the flexibility it has to change its messaging within a moment's notice. It also was a great example how Social Media and DOOH, together, can create a successful campaign.

Are you interested in the Durden Digital Network to gain more exposure? Check out our inventory by clicking HERE or contact a FAMOUS Maker today to learn more about our products and services.