Here Comes Santa Claus…..on a 50 ft. billboard!
December 2, 2021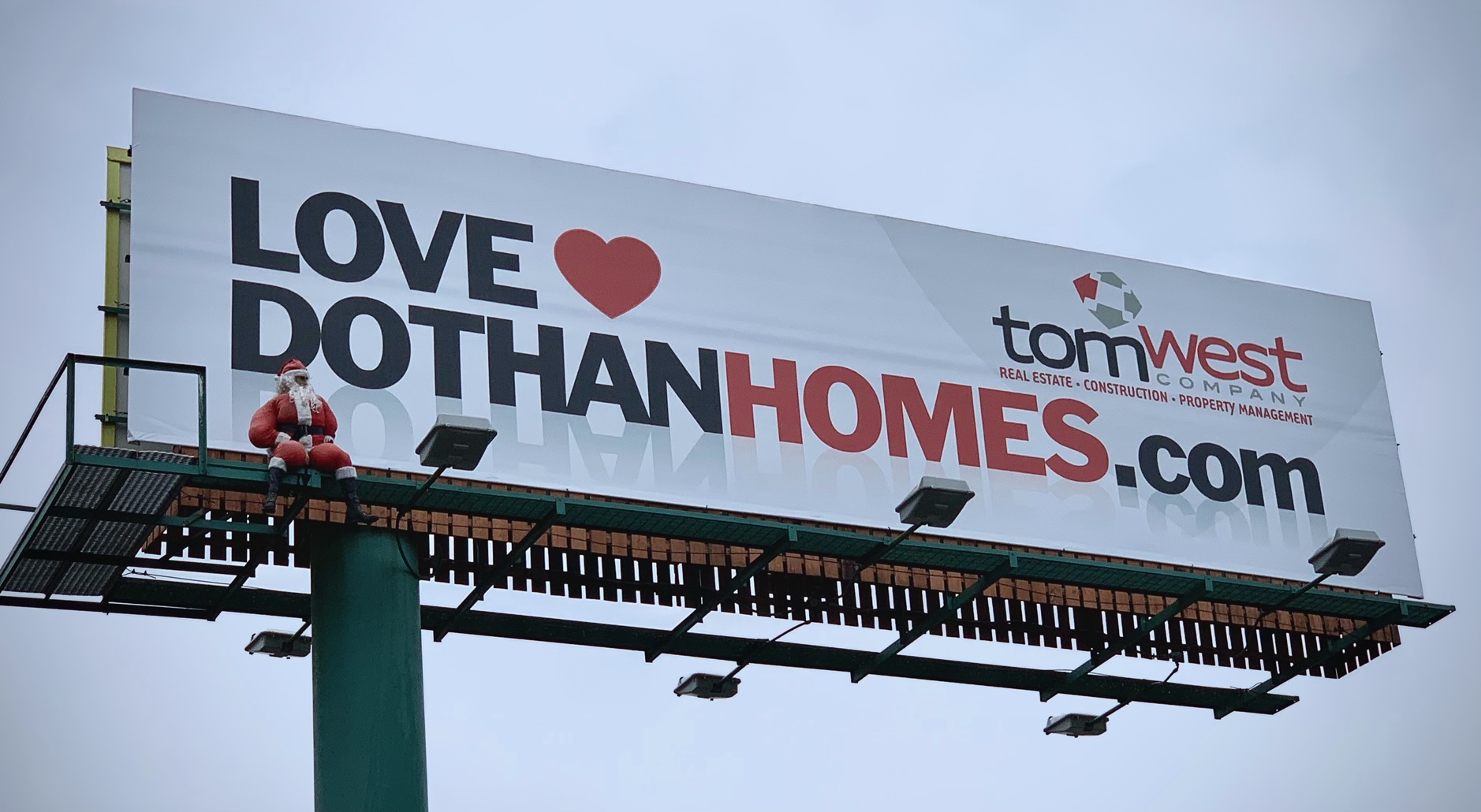 "We want to jazz up our billboard for Christmas. How do we do that?" This was the question posed from a long time client, Tom West Company.
The Famous Makers at Durden Outdoor in Dothan, Alabama have utilized mannequins in billboard campaigns for years. "Some people find them creepy, but I have a secret obsession with mannequins," says Bill Durden, VP of Operations, with a sneaky grin. "Over the years we have used mannequins on billboards as a dancing 'MC Hammer' look alike, father and son fishing in a real canoe, a man perpetrating a painter on a billboard, and now, St. Nick himself."
The original idea was to have Tom West Company incorporate a Santa mannequin into their social media through a series of posts. The client, a large local realtor in town, could have created a video series with the president telling the rest of his agents, "we have to help 30 home buyers find homes before Christmas this year. To do this, I am going to personally sit on our billboard's catwalk in a Santa suit from now through Christmas day to remind everybody we're here to help them." The idea for the second video was to have him in the grocery store with his Santa sack buying food and water that he would need for the 25 days sitting up on a billboard. The final video would highlight the president of Tom West Company wearing a Santa suit while getting hoisted up in a boom truck like he was really going to affix himself to this billboard for 30 days. In this case, we were not good enough salesmen to convince our client to do this…..even though he totally has the outgoing personality to pull it off and it would be a hit.
We just wanted to share this idea with the world because as a creative, sometimes you just want to see a great idea executed. By all means, if anyone else would like to implement this idea for one of their billboard customers, feel free to do so. We simply purchased a large male mannequin in a sitting position, a Santa suit, hat and boots. Then stuffed him with pillows to fatten him up. We then used 4 rolls of duct tape to secure all of his body pieces together. Then, simply ratchet strapped him to the walk rail. It was simple to produce but adds that extra touch during the holiday season.
Durden Outdoor Displays, Inc. has been making clients FAMOUS since 1968. Headquartered in Dothan, AL, their 60,000 square foot facility houses a full service art, marketing & production company. Durden Outdoor Displays operates a marketing network of 1,000+ bulletins, posters and digital displays across Southeast Alabama, Northwest Florida and Southwest Georgia.