Durden Outdoor Welcomes Hal Edwards as Sales Director
June 26, 2023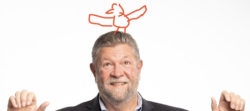 Durden Outdoor is excited to announce the addition of Hal Edwards as Sales Director. Having worked in the radio world for a number of decades, Hal brings a wealth of experience and knowledge to the team. His positive attitude and ability to relate to people makes him a great asset to the FAMOUS team.
We asked Hal about how he got into the industry and his love for media and this is what he said:
"I was born in a peanut field in the early morning hours. That afternoon, I was driving a peanut picker. At noon, just to show them how to do it, I jumped down and picked a bale of cotton. It was a happy life, until my father died and we had to move to the big town of Unadilla, Georgia. I was nine.
Shortly after we moved into the projects, Momma told me to go speak with Freddy Barron at Barron's Supermarket about a job. Freddy was tall and I looked up at him and said, "I need a job." He said, "Well, what the hell can you do?" I said, "I can do anything!" I guess he had to find out if I was a crybaby. I worked there for eleven years. For all the money that I was able to contribute to my family, I'm eternally grateful.
After college, I heard an ad on the radio that said, "You can be a part of the exciting world of radio! The Elkins Institute of Broadcast Technology will help get your foot in the door!" I was part of the exciting world of radio in Cordele, Perry and Albany, Georgia; and Enterprise and Dothan, Alabama. Poof! Forty years later, the radio station I was working at, sold. I retired, hated it, and now I work for a great company, Durden Outdoor Displays. Not the end. Just the beginning." 
Hal leads our sales department and oversees our team across local, regional and national accounts.
"We are excited to have Hal join the FAMOUS Makers," says Bill Durden, VP of Operations. "He is an extraordinary individual who really has an in-depth understanding of the advertising industry. He listens to the needs of our clients and converts those needs into award-winning ideas. We are grateful to have him on our team."
If you would like more information on how to become FAMOUS in the Wiregrass area, give Hal a call at (334) 792-5056.